The Bel Air zip code is 90077. Just adjacent to our home offices Bel Air, an affluent residential community in the hills of the Westside of Los Angeles, California. Together with Beverly Hills and Holmby Hills it forms the Platinum Triangle of Los Angeles neighborhoods. According to ArcGis Bel Air is the wealthiest zip code in Los Angeles. The median net worth is $500k, with a Median Household income of $196,000.  Situated 12 miles west of downtown Los Angeles and includes some of the foothills of the Santa Monica Mountains. It borders the north side of UCLA along Sunset Boulevard with Mulholland Blvd to the Northern boundary.. At the heart of the community sits the Bel Air Country Club (featuring 18-hole golf course and tennis courts) and the Hotel Bel Air (remodeled in 2011). The community was founded in 1923 by Alphonzo E. Bell, Sr.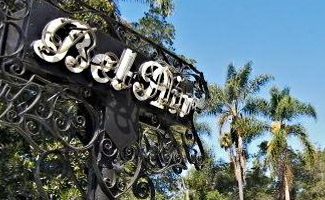 It is bordered by Westwood on the south, Brentwood on the west and southwest, Beverly Hills Post Office on the east, and Sherman Oaks to the north. Bel Air is home to high net worth individuals/families as well as numerous celebrities. The Bel Air Association has been operational since 1942, which preserves the life-style and property-values of the  community. There is a 24/7 security patrol in Bel Air. The Bel Air Association is located at the entrance of the East Gate of Bel Air at 100 Bel Air Road.
Real Estate in Bel Air tend to be private and hidden, by dense foliage and gates, from the winding roads of the community. Residences range from relatively modest ranch-style houses, to lavish mansions on magnificent estates. While some houses in Bel Air seem quite modest from the outside, often lying mere feet from the street, they still have large grounds. In general, the higher up the mountain, the smaller the building lots, and more modest the houses. However, those residences along roads such as Stradella Road and Linda Flora Drive provide panoramic views of the Los Angeles basin and Catalina Island. The most desirable houses are near the main entrances of the Bel Air Country Club, because they boast views of both the country club and much of Los Angeles. Lower Bel Air boasts many of the most expensive homes in the community, largely because of their proximity to Sunset Boulevard, a major thoroughfare.