Located in the San Fernando Valley, Tarzana is a district in the city of Los Angeles, California. The neighborhood is located on the site of a former ranch owned by author Edgar Rice Burroughs, who named it Tarzana after his jungle hero character Tarzan. Tarzana, a district of Los Angeles, is surrounded by the town of Reseda to the north, Woodland Hills to the west, Encino to the east, and the Santa Monica Mountains (also a part of Los Angeles) to the south. Major roads in Tarzana include Reseda Boulevard, Tampa Avenue, Wilbur Avenue, Burbank Boulevard, and Ventura Boulevard.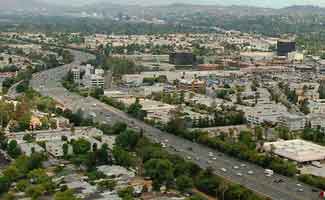 There are approximately 28,484 residents. Real Estate prices have a considerable higher value and desirability "South of the Boulevard" (Ventura Blvd.) Most of Tarzana's inhabitants live in the foothills of the Santa Monica Mountains south of Ventura Boulevard. South of Ventura Boulevard also contains two private golf courses: El Caballero Country Club and Braemar Country Club.
North of the Ventura Boulevard, where a smaller portion of the population lives, there are fewer houses and more apartment buildings. Tarzana extends north to Victory Boulevard, encompassing a wide swath of medium-density housing. The Tarzana ZIP codes include: 91335, 91356 and 91357.