Studio City Commercial Real Estate​
Studio City commercial real estate services is just our forte. Named for the movie/tv studio's that drew people to the area back in the 1920's. Considered an affluent residential neighborhood within the City of Los Angeles in the San Fernando Valley. The average annual household income in Studio City is $156,142. There are 40,449 residents in Studio City, with a median age of 41.
In October 2022 the Median Home (Single Family Homes & Condo/Townhomes) sold for $1,400,000 or approx $800 per square foot. Whether you're in the market for a residential property or commercial real estate in Studio City, our team at One Source Real Estate has the expertise and local knowledge to help you find the perfect property to meet your needs.
Only 13 miles northwest of Downtown Los Angeles, Studio City is nestled in the northern foothills the Santa Monica mountains, a prime location for easy access to employment centers in Hollywood, Downtown, the Valley and Beverly Hills. The Ventura Freeway from Los Angeles and the San Diego Freeway from the coastal cities gives easy access to all of Southern California. Studio City is ideally situated for living, working or relaxing in Southern California. Schools include the highly desirable Carpenter Elementary. The stretch of Ventura Boulevard that runs through Studio City is the neighborhood's primary commercial corridor. Studio City expands over four ZIP code areas: 91604 and sections of 91602, 91607 and 90210.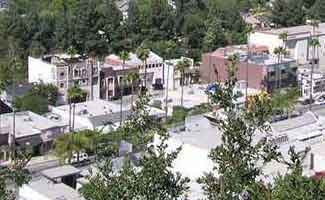 Some fun things to do in Studio City:
Fryman Canyon aka Wilacre Park has 2 parking lots. One is at the bottom off Laurel Canyon at 3431 Fryman Rd, Studio City, CA 91604. The other parking lot is at the top near Beverly Hills at 12601 Mulholland Dr. A popular hike up the Santa Monica Mountain. It's 128 acres, dog friendly and has a few hidden picnic benches if you can find them (hint they are way up top near Mulholland Drive). There's a few trails, but the main trail is a loop through the park that will lead you back into the parking lot.
Studio City Farmers Market, every Sunday from 8:00am-1:00pm rain or shine. But closed during Christmas week. There's typically activities for children such as bouncy houses, face painting and a pony ride with petting zoo! The farmer's that come showcasing their wares include the freshest fruits and vegetables to gourmet Mushrooms & truffles. There are typically hot food options such has Tamales, Hot Dogs, Pizza and Papusas. Yum!Where; Ventura Place between Laurel Canyon Blvd. and Radford Ave. Parking is available at the CBS parking structure located past the main gate on Radford Avenue and in the Chase Bank parking lot.
Pinz Bowling Alley, 12655 Ventura Blvd, Studio City CA 91604 (818)769-7600Great for the whole family bowling is always such fun. In business since 1958. They have an arcade and food options as well. Free parking.
Weddington Golf & Tennis. The golf course is a 9 hole, 27 Par course with luscious greens throughout. Well kept and some even say its a hidden gem. There is also a driving range with 25 stalls. Along with a free putting green.  The tennis facility has 16 courts. 4141 Whitsett Avenue Studio City, CA 91604
Ventura Blvd. The commercial corridor of the San Fernando Valley, Ventura Blvd in Studio City offers many dining options for the most adventurous to the most picky. There is definitely something for everyone. Some of the best Sushi in LA with many, many options of restaurants to choose from. Lots of gastropubs/bars including Laurel Tavern, Firefly, and Black Market. Take a walk from 12070 Ventura Blvd going east and you'll definitely find something of interest.