"It takes a Village". Valley Village is a district located in the San Fernando Valley region of Los Angeles, California, north of Studio City, west and south of North Hollywood, and east of Sherman Oaks. Approximately 22,000 residents live within the boundaries of Valley Village, which consists mostly of single family homes and small shops and businesses. Valley Village has a significant Jewish population. The Valley Village Post Office encompasses the 91607 ZIP code.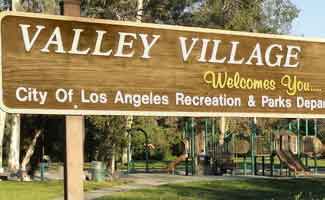 The community of Valley Village was first formed in 1939. It was originally considered part of North Hollywood. In the 1990s, Valley Village was officially recognized as a separate community by the Los Angeles City Council.
Valley Village is bordered by the Ventura Freeway to the south, the Hollywood Freeway to the east, the Tujunga Wash to the west, and Burbank Boulevard to the north. Zip codes for Valley Village are 91607 and 91617.