Houses in Los Angeles have seen all-time demand as the populations continue to rise with the growth of the economy. Well known for the epicenter of Hollywood, entertainment, tourism and beaches, warm weather Los Angeles is our happy home. In LA, in 2010 the United States Census was over 3,700,000, which is the most populous city in the state of California, and the second most populous in the United States, after New York City. It has an area of 468.67 square miles and is located in Southern California. The city is the focal point of the larger Los Angeles-Long Beach-Santa Ana metropolitan statistical area, which contains over 12,000,000 people as of 2010, and is one of the most populous metropolitan areas in the world and the second largest in the United States.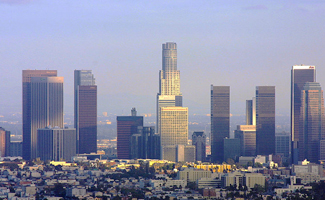 Los Angeles (also known as L.A. or the Westside) includes the Los Angeles city communities of Bel Air, Beverly Crest, Beverlywood, Century City, Brentwood, Cheviot Hills, Pacific Palisades, Palms, Rancho Park, Sawtelle, West Los Angeles, Westwood, Venice, Mar Vista, Playa del Rey, South Robertson and Westchester, as well as the incorporated cities of Beverly Hills, Culver City, Santa Monica, and the unincorporated county territory of Marina del Rey.
Los Angeles is one of the largest centers for fashion, entertainment, culture, media, television, film and business. Its ideal climate much like Southern France enjoys 263 average days of sunshine, Los Angeles residents are a melting pot of immigrants from all around the world. Truly any type of cuisine is available in LA.There are a wide variety of museums, cultures, and diversity in every corner. Los Angeles has plenty of landmarks to visit, including: Grauman's Chinese Theatre , Los Angeles Memorial Coliseum, Kodak Theatre, Griffith Observatory, and the Hollywood Bowl. The area is also well known for the various Amusement parks (Disneyland, Magic Mountain, Knotts Berry Farm, and Universal Studios). Major Hollywood studios  such as Fox, Disney, CBS, etc…surround the city, classy Beverly Hills Rodeo Drive, Santa Monica & Malibu Beach, and its many shopping malls across the city.
Los Angeles is also home to the UCLA Bruins, USC Trojans, CalTech, Art Center College of Design, California State University Los Angeles, and many more. It is also home to professional sports teams; Los Angeles Lakers, Los Angeles Clippers, LA Kings, and the LA Dodgers.  In 2016 both NFL teams moved to LA- The LA Rams, and LA Chargers. Anticipated in 2020 these two Football teams will share the biggest stadium in Southern California to open in recent years.  Slated for 2028 LA will host the Summer Olympics. Los Angeles is a large city offering everything from weather, culture, diversity, entertainment, and beautiful homes. Our team knows Los Angeles from corner to corner, and we all enjoy the city from the the Los Angeles coastlines to the Los Angeles Mountains. We are dedicated to finding the right home for you in Los Angeles and any of its surrounding cities.